Framed wall art is captivating for bringing a dash of class, personality, and visual interest to your living space. Framed wall art can completely change the atmosphere of any room, whether you're trying to establish a focal point, express your style, or add some life to bare walls. There are many options to buy framed wall art in India at affordable prices, a nation renowned for its extensive artistic legacy. There is some option to suit every taste and affordability, from online marketplaces that provide convenience and a wide selection to physical establishments that offer a tactile shopping experience.
In this article, we'll look at the best online and offline stores in India for framed wall art and discuss things to consider before buying at an affordable price. Prepare to set out on a quest to find the ideal pieces that will boost the aesthetics of your room, whether you're looking for paintings, prints, or photographs.
Why You Need Framed Wall Art?
The details make a space beautiful, and framed wall art is one of the most engaging ways to upgrade the aesthetics of your house or business. These canvas art prints give any area a dash of style, character, and visual intrigue. Framed art prints are ideal whether you want to draw attention to a particular area, show your style, or liven up blank walls. If you want to purchase framed wall art in India, many online and offline possibilities may be tailored to suit various interests and preferences.
Top Online Marketplaces To Buy Framed Wall Art in India
The ease of online buying has completely changed how we buy framed prints in this digital age. Several online shops in India sell framed wall art, giving customers various selections. These websites provide framed wall art in different styles, including paintings, prints, posters, and photos. Here are a few well-known online stores where you can get framed wall art:
1. Desiwall.com
Desiwall is a well-known online retailer of India's best framed wall art collections. They provide a variety of styles, shades, and themes in their special section for framed wall art. Desiwall offers solutions to fit many aesthetics, whether you want vivid and assertive art or subtle and minimalist patterns. With over 1000+ Designs and adding more, their original artwork comes with excellent graphic designs and better prices. Considering the price and quality of the material, this one is the best place to buy framed wall art in India.
2. Artflute
Artflute is an online art gallery that showcases contemporary artwork, including framed wall art. They have a selection of curated pieces from emerging and established artists.
3. Artisera
Artisera is an online marketplace specializing in curated luxury home decor, including framed wall art. They offer a collection of high-quality, unique, and exclusive pieces. They are one of the best places to buy framed wall art in India.
4. Mojarto
Mojarto is a platform that connects artists and buyers. They have a vast collection of framed wall art from artists across India, including paintings, prints, and photographs.
5. IndianArtZone
IndianArtZone is an online art gallery that features a curated selection of framed wall art by Indian artists. They offer diverse styles and themes to suit different tastes and budgets.
6. Pepperfry
Pepperfry is Known for its comprehensive range of home decor items; Pepperfry has a dedicated section for framed wall art. They provide a variety of styles and themes to cater to different preferences and budgets.
Offline Stores To Buy Framed Wall Art in India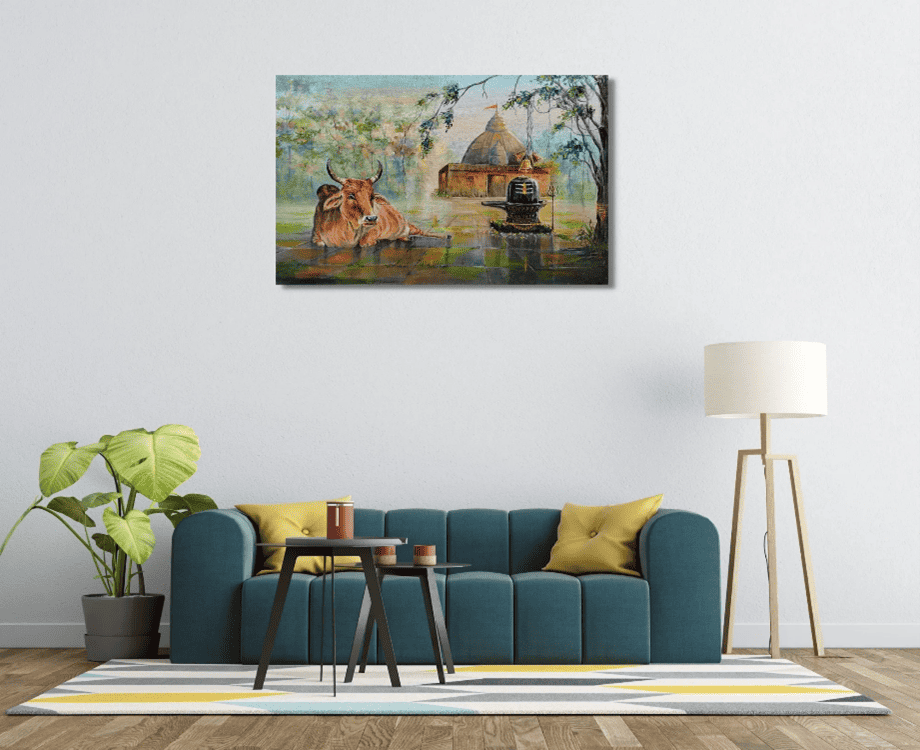 For those who prefer a more tactile and immersive shopping experience, offline stores provide an excellent opportunity to explore and select framed wall art. Here are a few well-known offline stores in India where you can find a diverse range of options:
1. Fabindia
Fabindia is well known for its handcrafted goods, highlighting India's rich cultural past. They have an excellent selection of framed wall art that frequently features traditional patterns and themes from India. Fabindia is a terrific place to start if you plan to add a bit of culture and authenticity to your design.
2. Home Centre
Home Centre is a well-known home goods retailer with stores throughout India. They provide a variety of goods, which includes framed wall art. Thanks to their wide range of styles, colours, and sizes, you can find something ideal for any space in your house or business.
3. Art Galleries
Looking through your neighbourhood's art galleries is an excellent approach to finding one-of-a-kind and distinctive framed wall art pieces. You can buy one-of-a-kind works of art while also supporting the local art scene by visiting these galleries, which frequently display the results of local artists. Going to art galleries also allows you to see the marking of art up close and personalize your selection.
Factors To Consider Before Buying Framed Wall Art In India
There are a few options to consider before deciding on framed wall art. Considering these variables, you may select artwork that fits your style, preferences, and budget. Several crucial factors are listed below:
Size: Check that the art is the right size and complements the surrounding decor by measuring the wall space where you intend to place it. Think about how the artwork fits within the room's dimensions and scale.
Style and Theme: Select the style and theme that best suit your personal preferences and the atmosphere of the space. Whatever art style you prefer—abstract, modern, traditional, or landscape—select works that speak to you and go well with the room's design.
Material and Quality: Pay close attention to the frames and the piece of art's materials and quality. Choose strong materials to keep the artwork safe and ensure its endurance. Examine the print or painting's craftsmanship to ensure the clarity, colour vibrancy, and general quality fit your standards.
Budget: Before starting your search, set a budget to assist you in limiting your alternatives. The cost of framed wall art might vary based on the size, the type of material, and the calibre of the artist. Establish your spending limit and search for works of art that provide the best value within it.
Authenticity: If you're buying art from a gallery or an individual artist, think about the provenance and authenticity of the piece. To authenticate the object and its worth, ensure you receive the appropriate documents, such as a certificate of authenticity.
Return policy: Review the return policy of the shop or website you use before purchasing. Know the terms and circumstances if you need to exchange or return the artwork.
Conclusion
A robust technique for changing a room's atmosphere is framed wall art. You may buy framed wall art in India in various ways, online and offline. Overall, the Desiwall wall art store has the most comprehensive variety of designs, glass framed wall art, and better customer support. While art galleries provide one-of-a-kind and unique pieces created by regional artists, offline retailers like Fabindia and Home Centre give a hands-on purchasing experience.